Gutter Helmet® Gutter Protection Systems in Cheshire
Prevent clogging and overflows with gutter guard installation throughout Connecticut

Clogged and overflowing gutters are more than just a nuisance -- they can pose a serious threat to your home. Overflowing water can damage your gutters and your roof, eventually causing roof leaks. Additionally, water will run over the gutters and pool near the foundation, which can lead to basement or crawl space flooding.
See why Connecticut homeowners love Gutter Helmet
CT Gutter Helmet, LLC can prevent these problems by installing Gutter Helmet® gutter guards. This proven system is designed to eliminate clogs and overflows, ensuring your gutters always work the way they're supposed to. If you're interested in Gutter Helmet® gutters for your home, call us today at 1-844-387-4677 or click below to get started. We offer free estimates on all our work in Prospect, Naugatuck, Cheshire, Wolcott, and nearby!
Gutter Helmet Before & After Jobs
Before

After

Gutter Helmet Installation in Cheshire, CT!

A homeowner in Cheshire, CT contacted CT Gutter Helmet, LLC for a new gutter installation! We installed Gutter Helmet on them as well to ensure that they NEVER CLEAN THEIR GUTTERS AGAIN! Great investment for the weather here in New England!

Before

After

Gutter Helmet Installations in Naugatuck, Connecticut

Homeowners will never have to worry about cleaning their gutters again after having a gutter helmet protection system installed on their roof.

Before

After

Gutter Helmet Gutter Guards Installation in Naugatuck, CT

When homeowners are tired of having clogged gutters on their roof, they contact our team of specialists for a free inspection and estimate to have gutter guards installed. After the gutter guard install quote is approved, we go right to work. Homeowners are thrilled to know that they will never have to clean their gutters again.
How the Gutter Helmet® system works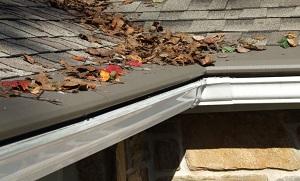 The Gutter Helmet® system will keep your gutters clean and working correctly.
Gutter Helmet® is designed to allow water into your gutters while blocking the leaves, twigs, and debris that clog gutters and cause them to overflow. The Gutter Helmet® system consists of a textured gutter cap with a curved design at the edge.
Water flows over the top of the cover, where the textured surface increases surface tension and cause water to cling to the cover and curve down into the gutter. The space between the cover and the gutter is too small for debris to enter, so it simply falls right off the edge as water pushes it along.
Reasons to choose Gutter Helmet® for your home
A permanent solution to clogged and overflowing gutters
Eliminates the need for gutter cleaning
A wide variety of colors blends with your home's design
Patented design installed by trained professionals
Transferable lifetime material and performance warranty
Protect your home by installing Gutter Helmet® today
If you want to eliminate clogged gutters and overflows that can lead to roof or foundation leaks, Gutter Helmet® is the solution you need! CT Gutter Helmet, LLC is the authorized Gutter Helmet® dealer in Greater New Haven & Western CT, and we can provide you with a complete gutter solution for your home.
Call us today at 1-844-387-4677 or contact us online to learn more about how our gutter guard experts can help your home. We offer free estimates on all our work in Prospect, Naugatuck, Cheshire, Wolcott, Woodbury, New Haven, Danbury, Southbury, Trumbull, Milford, Brookfield, and throughout the surrounding areas.
Looking for a price? Get a no cost, no obligation free estimate.